Forged Elbow - 180 Degree Short Radius
Section Links : 180 Degree Long Radius Elbow | 180 Degree Short Radius Elbow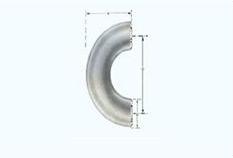 We have emerged as one of the fastest growing organizations involved in manufacturing and export of 180 degree elbow pipe fittings. Available in ANSI B 16.9 grade, our short radius elbow fittings are accurate in size and last for long period of time owing to use of premium grade metals. Judicial mix of men and machinery enables us to offer our range as per the specifications detailed by our clients.
With quality and client satisfaction as our forte, we manufacture a vast range of premium quality 45 degree elbow pipe fittings. Fabricated in tandem to international quality standards, these pipe fittings are immensely used in chemical, fertilizer, oil & gas, paper, cement and other industries. These corrosion & abrasion proof elbows last for long span of time. Further, they can be custom engineered to perfectly meet the clients' specifications.
Pipe elbow fittings is a very important pipe fitting. When we talk about a pipe elbow, it means a length of pipe with a sharp bend in it. Pipe elbows are fitting accessories which are used widely in various industrial sectors in pipe fitting. A pipe elbow is frequently used in pressurized applications and is available in various shapes and sizes for use in different applications. A pipe elbow is a fitting installed between two lengths of pipe or tube allowing a change of direction, usually in the 90° or 45° direction.
Riddhi Impex manufactures pipe fitting devices which are bent in such a way to produce some degree (90, 45, 180 degree) changes in the direction of flow of the content in the pipe. Elbows are manufactured to meet different specifications, in terms of size and diameter. Riddhi Impex manufactures & supplies high quality elbows that can be used for various applications. Our elbows are tested and verified for durability, accuracy and precision.
Riddhi Impex manufactures forged, seamless & welded elbows (pipe fitting) of types 90° Elbows, 90° Elbow, 45° Elbows, 180° Elbow of socket weld, threaded type to ANSI B 16.9 from classes 2000 to 9000 and Schedules from 10 to 160 .
Riddhi Impex manufactures elbow (pipefitting) accordance with BS standard from classes 2000 to 9000 lbs, Schedule 10 to 160.
Riddhi Impex designs & manufactures elbows (pipe fittings) of special type made according to drawing on request.
Material: A234-WPB A234-WP12 A234-WP11 A234-WP5 A403-WP304 A403-WP304L A403-WP316. A403-WP316L A420-WPL6. Ceramic Lined
Size:
Outer Diameter (D): D<=1220mm
Wall Thickness (T): T<=120mm
L/R Elbow( 90deg & 45deg & 180deg.),
S/R Elbow (90deg & 180deg.)
Pressure: SCH5 to SCH160
Manufacturing standard: ANSI, JIS, DIN, EN, API 5L, etc.
Bending Angle: Degree 15, 30, 45, 60, 90, 135, 180 and also could manufacture according the angles given by the clients.
End Bevel: According to the bevel of welding pipe fittings construction
Surface treatment: Shot blasted, rust-proof black oil
ELBOWS - ( Forged Socket Weld Elbows & Threaded Elbow, Seamless elbow, Welded elbow )
Forged Elbows :

90° Elbow socket weld
90° Elbows threaded
45° Elbow threaded
45° Elbows socket weld

Seamless Elbows :

90° Elbow long
45° Elbows long
180° Elbows long
90° Elbow short
45° Elbow short
180° Elbow short



Welded Elbows :

90° Elbows long
45° Elbow long
180° Elbow long
90° Elbows short
45° Elbows short
180° Elbow short

Pipefitting (elbow) - material

Standard

Construction

Classes in ELBOW

Elbow Types

Stainless Steel , Titanium elbow, Tantalum, Nickel , Cupro - nickel, Zirconium, Hastelloy , Incoloy, HR Alloy, Alloy 20, Monel, Inconel, , Niobium, Nimonics,duplex elbow,super duplex elbow

ANSI, BS

Forged
( 90degree, 45 degree)

2000 lbs, 3000 lbs, 6000 lbs, 9000 lbs

forged socket weld elbow , forged threaded elbow

Seamless
( 90degree, 45 degree, 180 degree)

S5s,S10,S20,S40,STD,S80,XS,S 160,XXS

long & short radius 90° , 45°, 180° seamless elbows

Welded
( 90degree, 45 degree ,180 degree)

S5s,S10,S20,S40,STD,S80,XS,S 160,XXS

long & short radius 90° , 45°, 180° welded elbows

INCHES

METRIC

N.B.

O.D. At Bevel

O

K

N.B.

O.D. At Bevel

O

K

½

0.840

3

1 7/8

15

21.34

76.20

47.63

¾

1.050

2 ¼

1 11/16

20

26.67

57.15

42.86

1

1.315

3

2 3/16

25

33.40

76.20

55.56

1 ¼

1.660

3 ¾

2 ¾

32

42.16

95.25

69.85

1 ½

1.900

4 ½

3 ¼

40

48.26

114.30

82.55

2

2.375

6

4 3/16

50

60.33

152.40

106.36

2 ½

2.875

7 ½

5 3/16

65

73.03

190.50

131.76

3

3.500

9

6 ¼

80

88.90

228.60

158.75

3 ½

4.000

10 ½

7 ¼

90

101.60

266.70

184.15

4

4.500

12

8 ¼

100

114.30

304.80

209.55

5

5.563

15

10 5/16

125

141.30

381.00

261.94

6

6.625

18

12 5/16

150

168.28

457.20

312.74

8

8.625

24

16 5/16

200

219.08

609.60

414.34

10

10.750

30

20 3/8

250

273.05

762.00

514.53

12

12.750

36

24 3/8

300

323.85

914.40

619.13

14

14.000

42

28

350

355.60

1066.80

711.20

16

16.000

48

32

400

406.40

1219.20

812.80

18

18.000

54

36

450

457.20

1371.60

914.40

20

20.000

60

40

500

508.00

1524.00

1016.00

22

22.000

66

44